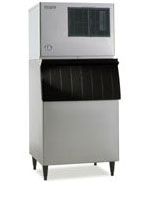 Ice machines are a very specilized form of refrigeration which requires special training and knowledge to properly repair. We have been factory trained in the proper techniques necessary to preform these repairs, as well as proper maintainance needed to keep them running at full capacity, and trouble free. Providing you with a full supply of crystal clear ice to keep your customers happy, and meet your daily demand for all your ice needs.



Manitowoc cubers > flakers > chiplet > ice storage bins > dispensers
Hoshizaki cubers > flakers > cubelets > dispensers > countertop units
Scotsman cubers > nugget > flakers > ice storage bins > dispensers
Ice O Matic cubers > flakers > modular units > under counter units
Crystal Tips > undercounter ice machine flakers
Cornelius flakers > cubers > chunklet > countertop dispensers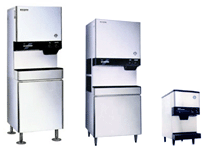 No matter what type of ice ( cubed, flaked, etc. ) you need, or how much you need to make in a day, we can supply an ice machine to meet your needs. Undercounter units, countertop units, hands free dispensers, free standing units, water and ice dispensing units, air cooled, water cooled, remote condensers, even machines that make 2000 lbs of ice a day.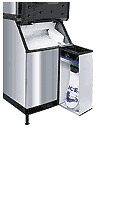 Bagging, filtering, storing, ect. are made easy with such accessories as: ice bagging attachments, waterline filtering systems, slime inhibitors, storage bins of all sizes, scoops, stands to raise the height of your ice machine, as well as a host of replacement hardware such as: legs, replacement door and side panels, water curtains, and hinges.

Contact us for any and all your ice machine needs at: (315) 793-0513 for 7 Day A Week Prompt Personal Service or e-mail us at service@ronbusheyrefrigeration.com, for more information about our ice machine services offered e-mail us at: info@ronbusheyrefrigeration.com. We look forward to hearing from you.