Restaurants, Supermarkets, Schools, Nursing Homes, Florist Shops, Bakeries, Convenience Stores, Hospitals, Grocery Stores,Taverns, Meat Markets, Seafood Markets, Cold Storage Facilities, Country Clubs, Legions, Retail Stores, VFW'S, Manufacturing & Processing Plants.



WALKIN COOLERS & FREEZERS
REACHIN COOLERS & FREEZERS
PIZZA/SALAD/SANDWICH PREP TABLES
FLORIST CABINETS
DISPLAY CABINETS
BACK BAR/UNDERCOUNTER/DRAFT BEER COOLERS
OPEN AIR SUPERMARKET DISPLAY COOLERS & FREEZERS
ICE CREAM DISPLAY CABINETS
PROOFERS & RETARDERS
WATER DRINKING FOUNTAINS
SALAD & BUFFET BARS
LINE COOLERS
AIR CURTAIN COOLERS
LOBSTER & SEAFOOD TANKS
DELI & MEAT CASES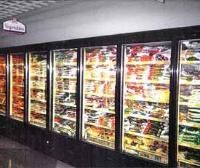 We work with each and every customer's needs, from the designing to the installation of new equipment, to the repair & maintenance of your existing equipment.



GASKETS
HINGES
HANDLES
REPLACEMENT DOORS
THERMOMETERS
LATCHES
STRIP AIR CURTAINS
SHELVING

COPELAND
TECUMSEH
BRISTOL
CARLYLE
DUNHAM BUSH
EMBRACO

Contact us for any and all of your refrigeration needs at (315) 793-0513 for 7 Day A Week Prompt Personal Service or e-mail us at: service@ronbusheyrefrigeration.com, for more information about our refrigeration services offered, e-mail to: info@ronbusheyrefrigeration.com We look forward to hearing from you.