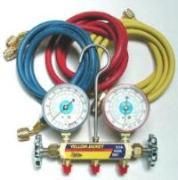 The P.M. our business offers is much like the maintenance preformed on your vehicles, how many of us have at one time or another put off taking our car in for maintenance only to find out that something wrong and expensive to fix has been going on under the hood, that, by all means could have been prevented. It's the same situation with your commercial refrigeration, heating, and cooling equipment. There's alot going on 24/7 inside your units, if there's trouble brewing, a professional technician can spot it immediatley to prevent an expensive repair, and possible loss of product. A large portion of our service calls from newer customers are from just that, not having their equipment checked out regularly. Our loyal customers through our maintenace program have saved thousands of dollars, and lost next to no equipment downtime. They know through the trust our company is known for, that we offer our preventive maintenance programs essentially for the benefit of their equipment, as well as our customers peace of mind.


EXTEND THE LIFE OF THE EQUIPMENT
REDUCE OPERATING COSTS, electricity, gas, ect.
SUBSTANTIAL CASH SAVINGS by preventing a major breakdown
ELIMINATING AND REDUCING THE LOSS OF PRODUCT
INCREASE EQUIPMENT EFFICIENCY AND PRODUCTIVITY
LIMITS THE LOSS OF VERY EXPENSIVE REFRIGERANT
ELIMINATES POTENTIAL HAZARDS
SAVES ON COMPRESSOR DESTRUCTION

Preventive maintenance on all your refrigeration, heating and air conditioning equipment should be of great interest to you, the benefits far out way the wait and see attitude that so many a commercial business possess.

Contact us to schedule a preventive maintenance program on all your equipment at (315) 793-0513 For 7 Day A Week Prompt Personal Service or e-mail us at: service@ronbusheyrefrigeration.com. For more information about our preventive maintenance programs offered, e-mail to: info@ronbusheyrefrigeration.com. We look forward to hearing from you.